Lego Disney minifiguren 71012
Iets nieuws!

Zoals wel vaker speur ik het internet af opzoek naar nieuwe Lego sets.

Na een aantal niet vrij bijzondere afbeeldingen te hebben gezien viel mijn oog op iets kleurrijks.
Het was vrolijk, vol herkenning maar bovenal nog niet te koop.
Lego is de samenwerking aangegaan met Disney en brengt een zeer mooi uitgewerkte serie minifiguren uit.

Verkoopt Lego ook losse figuren dan?

Na wat gezocht te hebben ontdekte ik de nieuwe serie minifiguren van Lego.
Sinds enkele jaren brengt Lego onder de naam "Lego minifugures" 1 of meerdere keren per jaar een set nieuwe figuren uit.
Deze figuren kun je kopen per stuk in een verrassingszakje.
Je weet van te voren niet welke je koopt maar de echte verzamelaar heeft daar iets op gevonden.
Aan de hand van de vorm voelt men wat de inhoud van het zakje is en maakt zo snel zijn collectie compleet.

Welke figuren zijn er beschikbaar?
Er zijn inmiddels meer dan 15 verschillende series uitgegeven met zeer diverse thema's.
Dit maal brengt Lego ons de volgende figuren: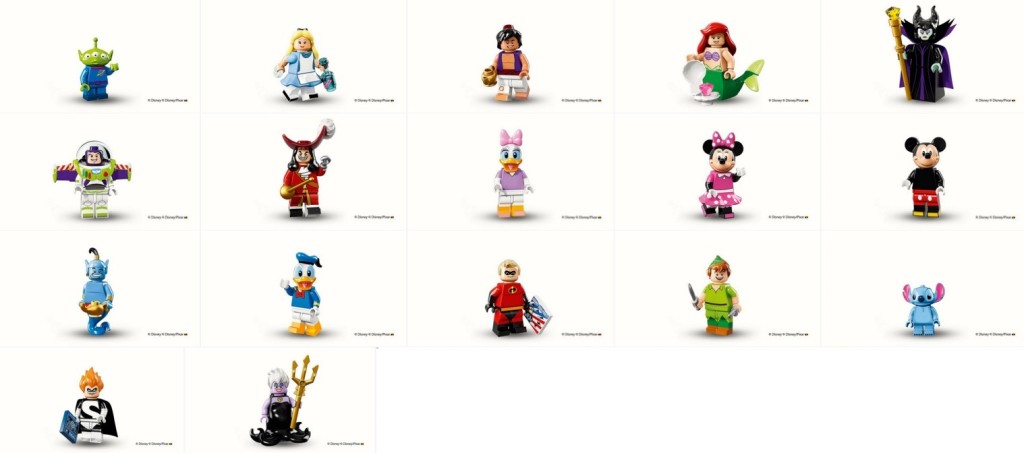 Wanneer zijn ze te koop?
Op dit moment heeft Lego ons laten weten dat de verkoop van deze prachtige lego disney figuren start begin mei.
Wij zijn aan het onderzoeken of het mogelijk is een paar dozen voor jullie te kopen om te helpen bij het verzamelen van deze kleurrijke vriendjes.